For a quick snapshot of how the economy is performing in Richmond, and in the surrounding Metro Vancouver region, the City of Richmond's Quarterly Economic Report has got you covered. In this report, you'll find up-to-date statistics and analysis on key economic indicators including housing and development, tourism and trade, business growth, commercial space and more. Here are some highlights from the second quarter of 2019.
Real Estate

In the home resale market, sales are slugging and prices are declining throughout Metro Vancouver.
1,165 homes were sold in Richmond throughout the first half of 2019, a 36% decline over the same period last year. Tightened mortgage rules, a foreign home buyer tax and other policy measures have contributed to this slowdown.
Apartments saw the biggest decrease in sales (-34%), followed by townhouses (-28%) and detached homes (-9%) over the same quarter last year.
In Q2 2019 the average sale price of homes in all categories decreased year over year: 28% for detached homes, 19% for townhouses and 9% for apartments.
Business Growth
There were 1,070 new business licenses issued in Richmond during the first half of 2019, an increase of 9% over the same period in 2018.
The addition of 3,846 jobs was attributed to these new businesses.
Goods and People Movement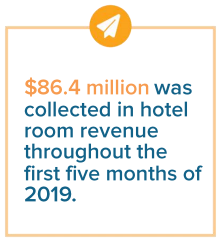 In the first half of 2019, there were 1.7 million Twenty Foot Equivalent Units (TEUs) of container movements at the Port of Vancouver, an increase of 3.5% over the same period in 2019.
The Vancouver Airport Authority (YVR) continued to experience passenger growth. 6.7 million passengers travelled through the airport in Q2 2019, an increase of 3.1% over Q2 2019. Year-to-date passenger traffic was also up, by 3.3%.
$86.4 million was collected in hotel room revenue throughout the first five months of 2019 in Richmond, an increase of 2.6% over the same five months last year.
—
Posted September 6, 2019
View the Complete Report
Click on the report cover below for a link to the complete Quarterly Economic Report.