For a quick snapshot of how the economy is performing in Richmond, and in the surrounding Metro Vancouver region, the City of Richmond's Quarterly Economic Report has got you covered. In this report, you'll find up-to-date statistics and analysis on key economic indicators including housing and development, tourism and trade, business growth, commercial space and more. Here are some highlights from the first quarter of 2019.
Housing Starts & Construction Activity

Housing starts in Richmond and Metro Vancouver declined by 79% and 16% respectively, when compared to the same period in 2018.
Throughout 2018 and into 2019, the number of new homes being constructed in Metro Vancouver has slowed and returned to historical norms after multiple government policy interventions introduced since mid-2016.
The decline in Richmond's housing starts in Q1 2019 does not directly compare to the change in residential building permits issued due to the varying timing between issuing a residential building permit and determining a housing start.
In Q1 2019 there were 191 residential, 123 commercial, and 51 industrial building permits issued in Richmond.
Real Estate
Tougher mortgage qualifications, rising interest rates, and government tax measures have contributed to another period of slowed housing demand.
The total number of homes sold in Richmond in Q1 2019 was down by 46%. Townhouses saw the biggest decrease (-58%), followed by apartments (-45%) and detached homes (-39%).
Average home prices were also down at the end of Q1 2019 over the same period last year. The average price of a detached home was $1.7 million (-3%), while the average price of a townhouse was $848,000 (-6%), and the average price of an apartment in Richmond was $562,000 (-13%).
Goods Movement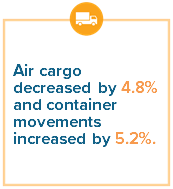 The volume of air cargo that moved through Vancouver International Airport (YVR) in the first quarter of 2019 was 68,598 tonnes, a decrease of 4.8% over the same period last year.
Port cargo movements increased by 5.2% over the same period last year, to 843,000 Twenty Foot Equivalent Units (TEUs) throughout Q1 2019.
—
Posted May 31, 2019
View the Complete Report
Click on the report cover below for a link to the complete Quarterly Economic Report.