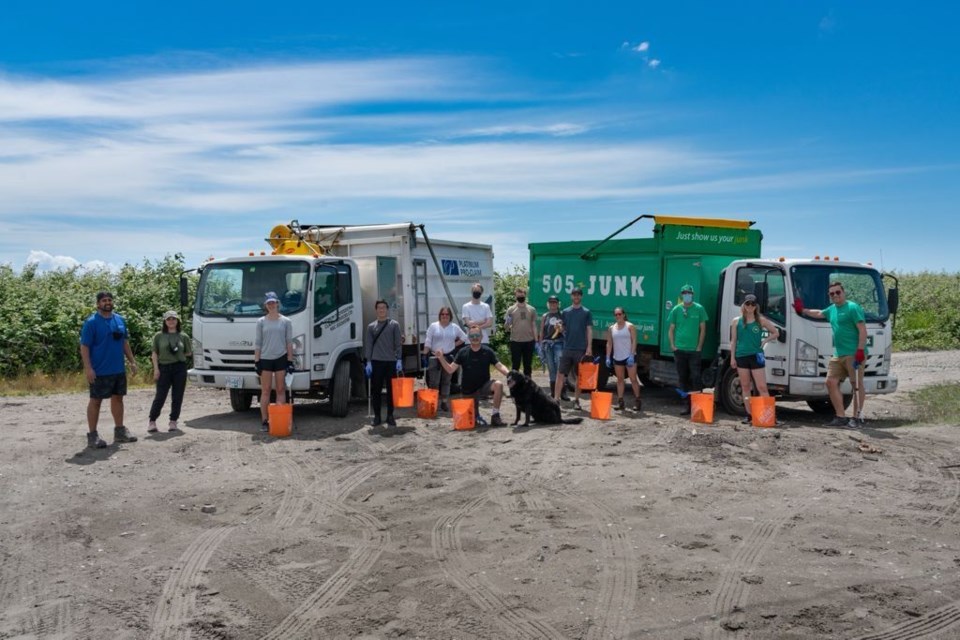 Volunteers from 505-Junk and Platinum Pro Claim Restoration recently completed a shoreline cleanup at Triangle Beach
(Photo: 505-Junk and Platinum Pro-Claim Restoration)
Below is a collection of local news success stories that showcase both innovation and resilience. Don't forget to use the hashtag #RichmondHasHeart when sharing your stories.
Keeping clients with mobility issues moving forward is the mission of HME. Doing that in the midst of the COVID 19 pandemic has been an enormous challenge that HME has met with flying colours.
Business Examiner
The cleanup was done by volunteers from 505-Junk and Platinum Pro Claim Restoration.
Richmond News • July 3
YVR has successfully achieved Neutrality in the Airport Carbon Accreditation Program by Airports Council International (ACI). YVR is the first Canadian airport certified at this level and joins 60 other airports from around the world at this level of certification.
YVR • June 21
A former competitive swimmer and lifeguard, Dior wanted to create swimsuits that wouldn't slip off on a slide
BC Business • July 9
Phil Brace has an extensive technology and operations background and was most recently Executive Vice President at Veritas Technologies.
BC Tech News • July 13
Years in the making and hugely anticipated, Versante Hotel — Greater Vancouver's first new luxury boutique hotel in years, and the first hotel of its kind in the city of Richmond — finally opens to the public on Thursday, July 29.
Hospitality Net • July 23
More than 80 anchor attractions and tour bus operators in B.C. will receive direct support for their recovery from the impacts of the COVID-19 pandemic.
BC Gov News • July 23
The market is back after 16 months with safety measures and a smaller setup.
CBC News • July 23