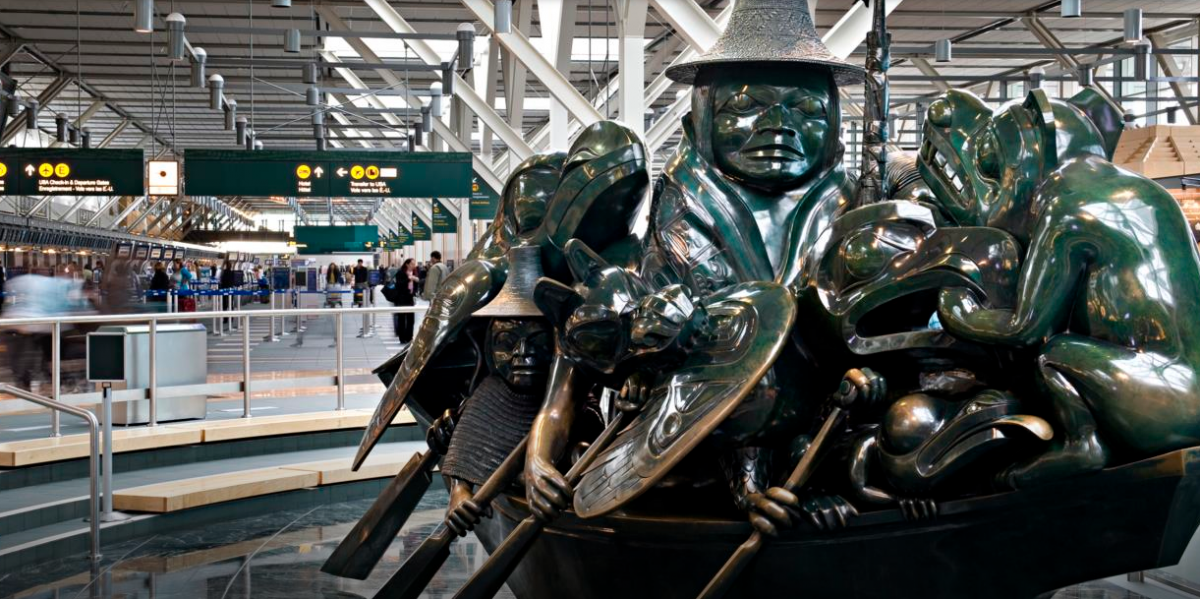 Image: The Spirit of Haida Gwaii: The Jade Canoe, Bill Reid, 1994
Located right in Richmond, Vancouver International Airport (YVR) is Canada's second busiest airport, welcoming a record 25.9 million passengers in 2018. Fifty-six airlines serve YVR, connecting people and businesses to 125 non-stop destinations in Canada, the U.S. and around the world. For the past ten years, YVR has been named the Best Airport in North America by SkyTrax.
YVR is more than just a travel hub—it's an economic generator, community contributor, and a hub of innovation. YVR's success stems from a unique operating model where Vancouver Airport Authority—a community-based, not-for-profit organization—reinvests all profits back into the airport and the region, improving YVR for everyone.
Through YVR's operations, as well as tourism and cargo, YVR helps facilitate $20.2 billion in total economic output and $10.4 billion in total GDP across British Columbia. The airport also contributes $1.4 billion in total government revenue.
YVR is also a major creator of jobs. YVR supports more than 26,500 jobs on Sea Island in Richmond. Additionally, there are more than 126,000 people employed across British Columbia as a result of airport activities in sectors like tourism, hospitality, engineering, retail, and operations.
YVR Fast Facts:
YVR welcomed a record 25.9 million passengers in 2018, including arriving, departing and connecting travellers.
Canada's second busiest airport, YVR's runways handled 338,073 takeoffs and landings in 2018.
More than 338,000 tonnes of cargo made its way through YVR in cargo aircraft and the belly hold of commercial passenger planes in 2018.
YVR has committed a total investment of $150 million to construct Runway End Safety Areas (RESAs) to improve safety in the unlikely event of an aircraft overshoot or underrun.
YVR has two main parallel runways oriented in an east-west direction and one crosswind runway.
The three most popular destinations, based on number of seats offered, to and from YVR are Toronto, Calgary and Edmonton, followed by Los Angeles, Victoria and Hong Kong.
The shortest flight from YVR is 21 minutes, to Nanaimo Harbour, B.C., while the longest non-stop flight from YVR is to Melbourne, Australia at 16 hours.
YVR's award-winning Green Coat Volunteer program, which provides friendly smiles and information to visitors, consists of 450 members who speak 21 languages among them. Up to 50 Green Coats volunteer at YVR each day.
Posted on January 14, 2020.
In Partnership with YVR