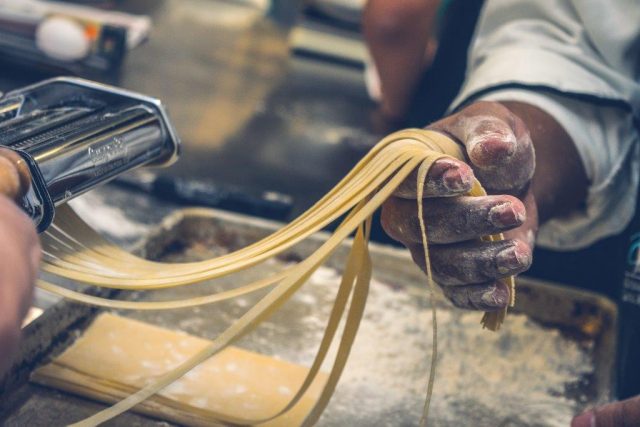 With the vacancy rate for industrial space at an all-time low and the market for space and employees extremely competitive in Metro Vancouver, it has become increasingly important for food manufacturing businesses to carefully evaluate the different production models available to them. Building a custom commercial kitchen or leasing a space might make sense for some while for others partnering with a co-packer can be an excellent way to scale up.
On November 29 our friends at the BC Food Processors Association hosted a seminar in Richmond for an audience of 60+ food businesses from the region. Speaking from personal experience, the seasoned (pun intended!) experts shared their insights about different production models including co-packing, where the manufacturing and packaging process is outsourced to another company.
Manufacturing and brand-building are very different – know your strengths
Catherine Anderson built her business Hidden Garden Foods, from scratch. When she first started producing her vegetables-disguised-as-cookies she hired a co-packer, freeing up time to focus on building her brand. When the time came to scale-up, Anderson decided to invest in her own production facility. Over time she dialed in all aspects of manufacturing and production and realized she could outsource this hard-earned expertise by co-packing for others' brands, helping save them from some of the headaches and growing pains she experienced. Anderson's advice for food start-ups? Be honest with yourself and know whether your skills lie in building a brand, or manufacturing operations – and outsource what you're not great at.
"Be honest with yourself and know whether your skills lie in building a brand, or manufacturing operations – and outsource what you're not great at." – Catherine Anderson, Hidden Garden Foods
Owning your own production facility isn't always the holy grail
After founding Granola Girl in 2008, owner April May Bellia started by working with a co-packer. As her business grew and she landed several big contracts including Whole Foods, Bellia got to work on what she considered the natural next step: buying and building her own commercial production facility. But order volumes fluctuated and she had difficulty adjusting staffing and production levels to match orders. Bellia decided to hire a financial analyst to crunch the numbers and it became clear that if she wanted to scale up her business she needed to bring down her overhead costs. She decided to switch production models and started working with a co-packer again, allowing her to focus on building her brand and growing the company. Bellia's words of wisdom? The path to growing a food business is not always linear, and numbers don't lie. Hire a good financial analyst and adjust your production model when it makes sense.
"The path to growing a business is not always linear, and numbers don't lie. Hire a good financial analyst and adjust your production model when it makes sense." – April May Bellia, Granola Girl
Some pros and cons of co-packing
Both Anderson and Bellia will tell you that the choice about whether to manage your own production or work with a co-packer to manufacture and package your product is a very individual one. Also on the seminar panel were Gurpreet S. Rai of KPMG, Ally Bharmal of Fasken, and Chantal Keely of Farm Credit Canada. Together they offered the following pros and cons of using a co-packer.
Pros:
Access to better equipment

– you can find a co-packer that has the next-level equipment that you're looking for, without a massive capital injection of your own. Bellia was able to find a co-packer with an automated heat sealing machine, streamlining her production process.

More time to build the business

– when you're not worrying about sourcing ingredients, repairing equipment or managing labour, your time is freed up to build your brand and get the orders you need to grow your company.
Cons:
Limited control –

when you outsource your production you have to step back and give up some control. This can be tough for an entrepreneur but open communication, clear quality control measures and product tracking can help you retain the right level of control.

Risks to intellectual property

– trusting someone with your secret sauce is not to be taken lightly, and things can go wrong. One way to mitigate this risk is to sign a Non Disclosure Agreement as soon as you start exchanging key business intelligence. You can also keep that secret sauce recipe to yourself and provide it pre-made to the co-packer as an ingredient input.
Know these key business aspects before you approach a co-packer
The panelists all agreed that you shouldn't go to a co-packer with a half-baked idea, and there's a lot of legwork you have to do as an entrepreneur and business owner before you're ready to take that step. Some co-packers will help with product development, but for the most part you want to have a shelf-stable and fully developed product before you approach a co-packer. Here are some other pieces of information you should have at the ready when approaching a potential co-packing partner.
Minimal viable production.

Crunch the numbers on what it takes to produce your product at different scales and know what a minimal viable production run would be.

How many other SKUs they produce.

You want a partner that is actively and successfully producing other products, but if they have multiple SKUs, find out where you'd fit in their priority order.

Sales forecast and cash flow projections.

Your co-packer will want to plan out the production well in advance so have a good sense of your order pipeline.

Product recipe and production process.

Like all the other points in this list you shouldn't share these details in the early stages of business discussions, but when you're ready to sign a deal you'll want to be very clear and specific on your product recipe and production process so the final product is exactly what you want.
Where to look for co-packers
If you've decided that co-packing is the best way to help you scale up your food businesses, you now need to find one! There are a couple options to help you do this. While not a comfortable option for some, you can approach makers of similar products to see if they can take on your manufacturing. You never know, the product might be different enough where this makes sense. Another great resource for British Columbia-based food companies is the BC Food Connection. Developed by the BC Food Processors Association, the Province of BC, and the Small Scale Food Association, this online database can help match you to a local co-packer based on your specific requirements. Once you've found your perfect match, make sure to engage legal and financial professionals to structure a deal that will protect you while freeing you up to do what you love – grow your food business!
—
Posted on December 17, 2018
In Partnership with the BC Food Processors Association