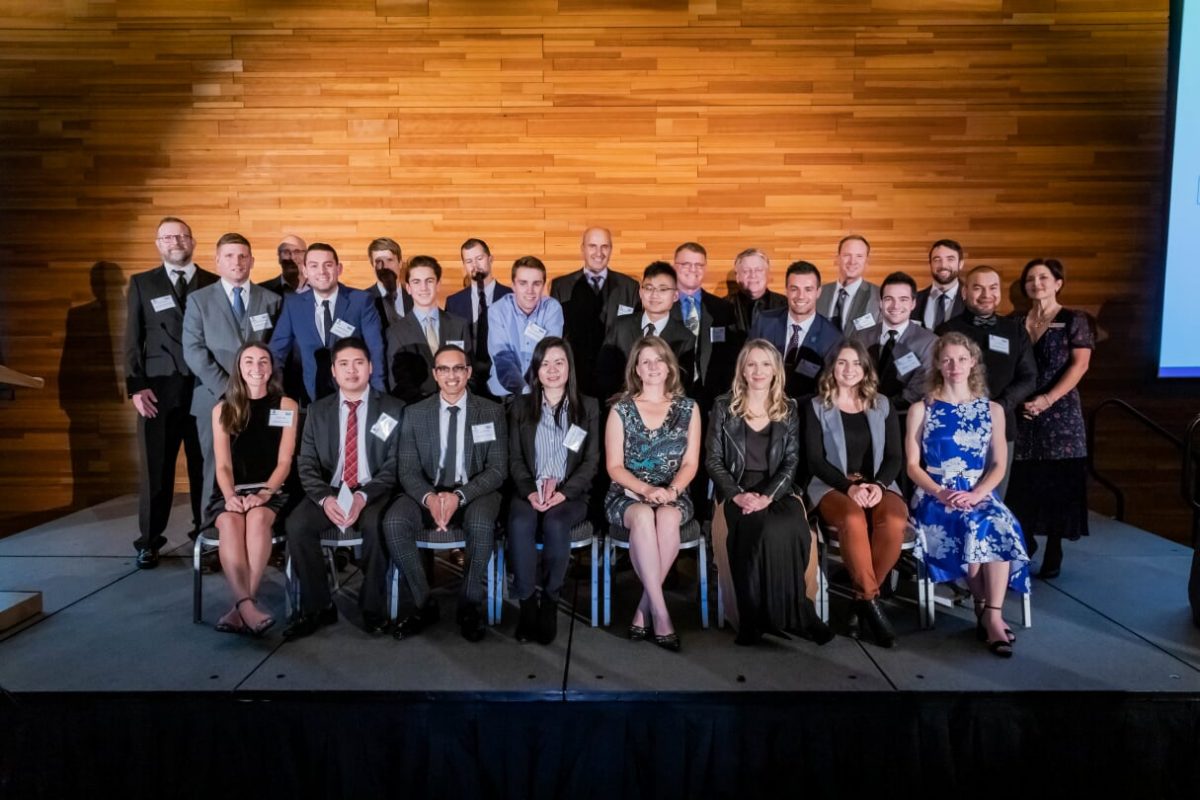 Winners at the 2019 Silver Wings Industry and Scholarship Awards Celebration.
Home to British Columbia's first flight, Richmond's aviation sector may be best known for the Vancouver International Airport on Sea Island; however it is so much more than meets the sky.
From providing maintenance, repair and overhaul services, advanced aviation technology, aircraft parts distribution, satellite communications, component manufacturing and air logistics for goods export and import, Richmond aviation companies cover the full spectrum. Adding to the significant economic impact generated by this sector, the British Columbia Institute of Technology's Aerospace Technology Campus helps to further develop Richmond's skilled workforce by delivering industry training to more than 700 students annually in all aspects of aircraft maintenance, engineering and flight training.
To recognize these successes, the highly prestigious Silver Wings Industry and Scholarship Awards Celebration held by the BC Aviation Council took place on October 24th at Canada Place. This event acknowledges industry colleagues for specific achievements within the province's aviation and aerospace industry, and awards over $60,000 in scholarships to students making aviation and aerospace a career choice. Richmond's aviation community made its presence known by being honored with two Industry Awards while multiple scholarships were awarded to BCIT students.
Air Canada's Glenn Oerzen was honored with a Lifetime Achievement Award.  As a supporter of BCIT's Airline and Flight Operations program, Glenn chairs the Advisory Committee and is passionate about educating and inspiring future aviation careers. His company is one of the largest aviation companies in the province with over 5,000 employees in BC, the majority of which are located in Richmond.
Perhaps the most meaningful award of the night, the Hope Air Community Giving Award, went to Richmond-based Pacific Coastal Airlines.  Hope Air helps make Canada's universal healthcare accessible by helping patients in rural communities access medical care. Pacific Coastal Airlines has been bridging the distance between home and hospital by donating over 2700 flights to Hope Air, totaling over half a million dollars in donations- a feat that was met with enthusiastic appreciation from over 200 attendees.
Aviation is one of the most diverse, engaging and fast-paced industries. On Sea Island alone, more than 26,500 people are employed by hundreds of businesses in aviation and related sectors.  As the airport continues on its positive growth trajectory, YVR and its partners are proactively recruiting through yvruready.ca for opportunities to start or build a career in aviation.
For more information on Richmond's Aviation Sector, check out our Key Sectors Profile.
—
Posted on October 30, 2019