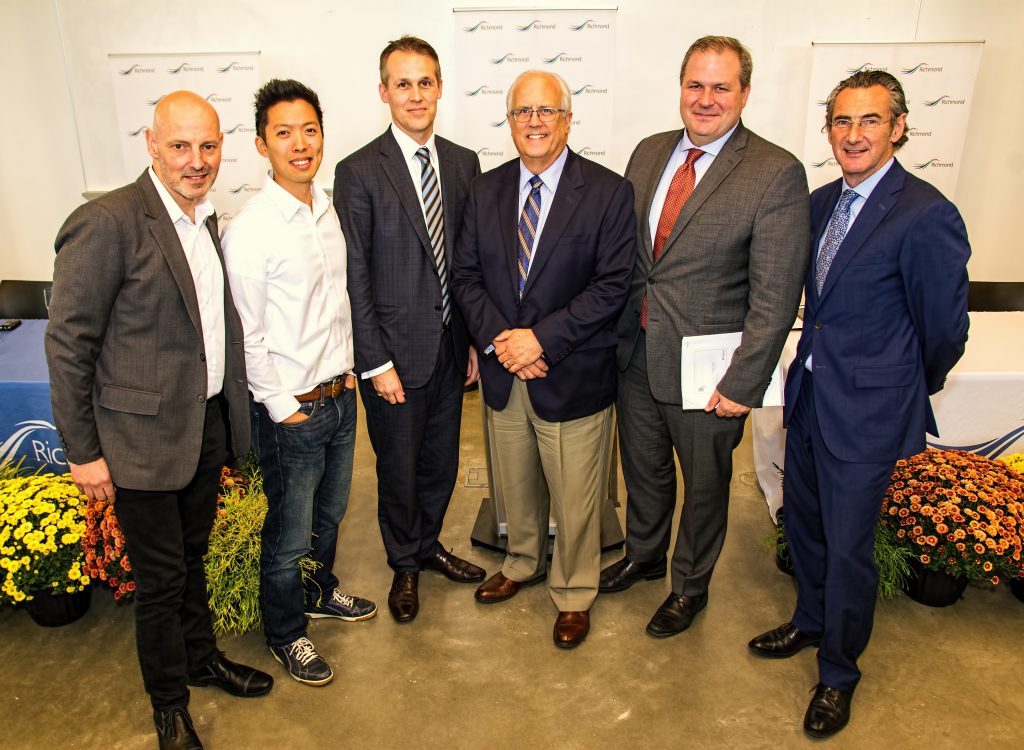 The exponential growth of e-commerce is transforming business models, urbanizing global supply chains, and redefining how goods are ordered, produced and delivered, according to a panel of business leaders, speaking at the City of Richmond's 7th annual business and partner appreciation event.
"It is estimated that, by the year 2020, global e-commerce spending will total $4 trillion, a $2 trillion increase from 2016 and equivalent to 14.6 per cent of all consumer spending" said Richmond Mayor Malcolm Brodie to over 100 local companies and partners attending the October 3 event.
"As one of 20 finalists in the Federal Government's Smart Cities Challenge, the City of Richmond recognizes the importance of how smart networks and devices can help provide better efficiencies to our civic operations and to help keep our community even more connected."
Panel moderator Paul Tilbury, Chief Operating Officer at Dayhu Group of Companies, which manages a portfolio of over 4 million square feet of commercial and industrial space in the region, opened the discussion noting that e-commerce has been a global phenomenon transforming supply chains across all industries. According to Tilbury, this trend is particularly pronounced in urban environments where online consumer behaviour is driving on-demand logistics and delivery.
Panelist Marc Kuo of Routific, a delivery route optimization software company, suggested that urbanization of supply chains means innovating in the last mile delivery space, where goods are delivered on demand from a local logistics centre to the end consumer.
Peter Van Stolk, CEO of SPUD said that a localized product delivery platform, reducing business costs for urban delivery, is how his grocery delivery company has solved the last mile frontier in e-commerce.
An ever-increasing consumer power demands that business locate close to customers, said Michael Hungerford of real estate company Hungerford Properties, with supply chain innovations driving higher levels of density and productivity of industrial facilities. Fleet management and goods transportation networks were also quoted as areas of focus for business and community planning to accommodate the on-demand economy.
Also speaking at the event was returning guest Jean Francois Perrault, Scotiabank's Senior Vice President and Chief Economist, who commented on the strong growth of our economy, despite uncertainties in the global political and economic landscape. Perrault further highlighted the limited impact of the new USMCA trade deal on Canadian business and the business opportunities and labour challenges anticipated from the recently announced $40 billion BC LNG investment deal.
Mayor Brodie recognized businesses for their participation and contribution to various City projects, and thanked partners for their ongoing contribution to the City's events and other initiatives that make Richmond a vibrant and desirable place to live.
October 04, 2018