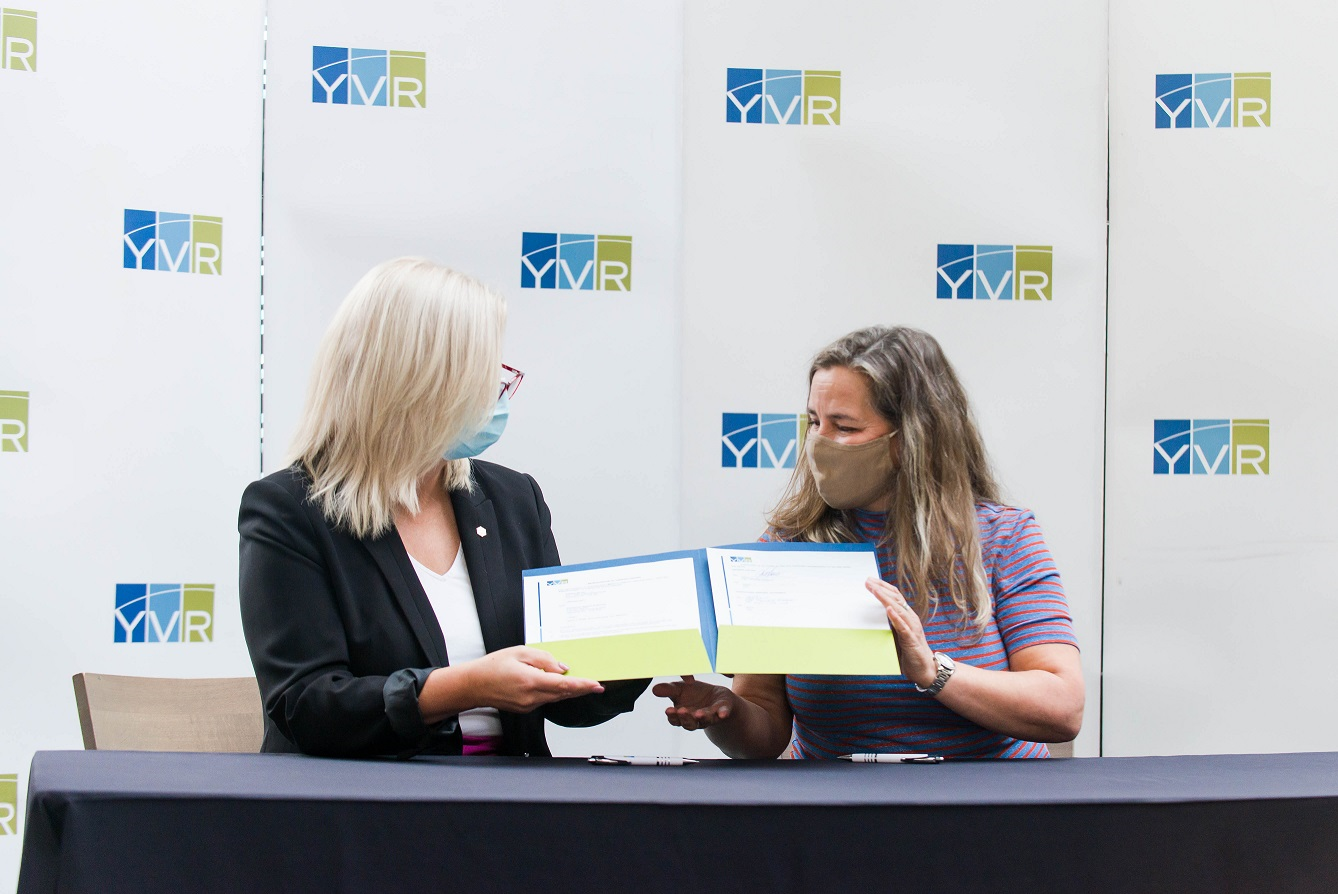 Tamara Vrooman, President and CEO of YVR; and Teara Fraser, LEO and Founder of Iskwew Air pictured above. 
Below is a collection of local news success stories that showcase both innovation and resilience. Don't forget to use the hashtag #RichmondHasHeart when sharing your stories.
In September, the airport (YVR) welcomed a total of 1,838,322 passengers, bringing its year-to-date total at month's end to about 14 million passengers.
Richmond Sentinel • October 7
2022 Technology Impact Awards Showcases Ambition and Innovation in BC
The Technology Impact Awards (TIAs) proved more ambitious than ever in their 29th annual celebration with a record-setting 48 finalists and 12 winners announced.
Newswire • October 7
InBC Investment Corp (InBC), the province's newest Crown corporation, is open for business and has launched its investment policy statement to guide decision-making to support a stronger, more resilient economy for British Columbians.
Richmond Sentinel • October 5
Potential tax relief on the way for B.C. small businesses, non-profits

Small businesses and non-profit organizations paying high property taxes because of future development potential may see some financial relief through new municipal property tax rate flexibility.
Richmond Sentinel • October 4

In its efforts to accelerate the green economy along the Canadian west coast, the Vancouver Island-based non-profit organization, Synergy Foundation, has chosen Liv'Ez Co. as a venture to accelerate through its Project Zero Incubator.
Live Easy Co • September 26
A Richmond eatery received city council's unanimous vote to approve its liquor service hour extension.
Richmond News • September 28
New immersive restaurant in Richmond
The Canada Infrastructure Bank (CIB), Lulu Island Energy Company (LIEC) and Corix Infrastructure Inc. (Corix) have achieved financial close on a district energy expansion project in the City of Richmond, British Columbia.
A Richmond woman has become the first ever winner of the Black Business Association of BC's (BBABC) Small Business of the Year. La Toya Barrington was named the winner at an awards ceremony at a hotel in Surrey last week.
Richmond News • September 22