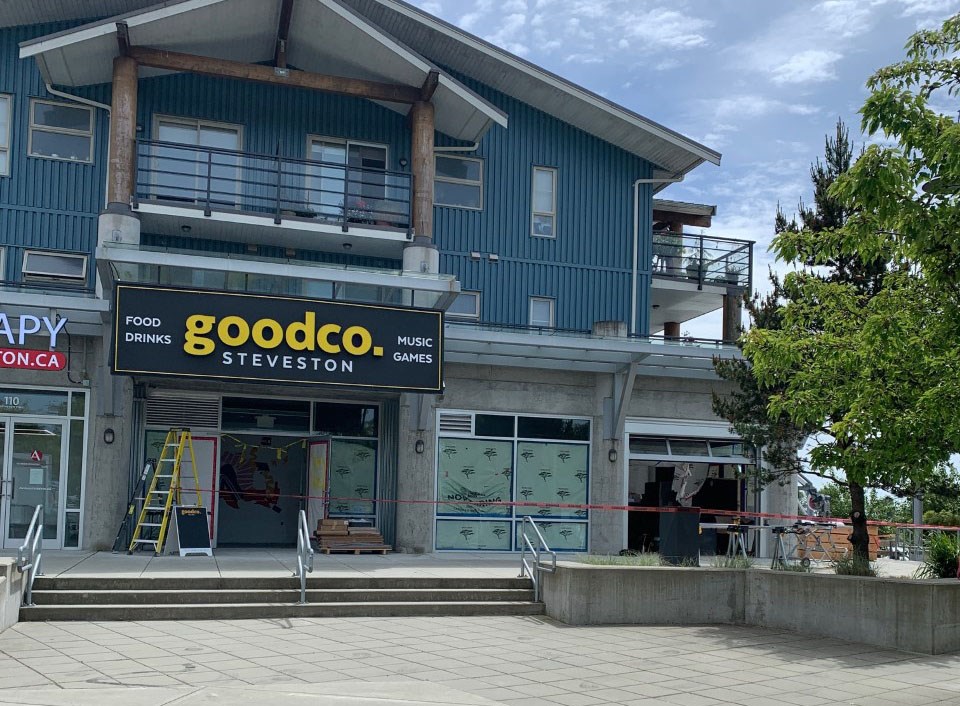 The new GoodCo. bar and restaurant – a rebrand of Colony Bars – is now open on Imperial Landing in Richmond. Eve Edmonds photo
Below is a collection of local news success stories that showcase both innovation and resilience. Don't forget to use the hashtag #RichmondHasHeart when sharing your stories.
MDA Reports Robust Revenue Growth in Second Quarter 2022 With Revenues of $154.7 Million, Up 22% YoY

MDA Ltd. (TSX: MDA ), a leading provider of advanced technology and services to the rapidly expanding global space industry, today announced its financial results for the second quarter ended June 30, 2022
BC Technology • August 15
Industrial sewing training will prepare British Columbians for new jobs

Professional skills training is helping as many as 45 people become industrial sewing machine operators in the Lower Mainland.
Richmond Sentinel • August 11
YVR path to recovery continues as airport reaches 10 million passenger mark
On Aug 5, YVR welcomed its 10 millionth passenger through the terminal in 2022. Sunday, August 21 is set to be the airport's busiest day since March 2020
YVR News • August 8
TransLink has announced a $130 million investment into upgrading local infrastructure throughout Metro Vancouver for 2022. Of the 107 projects announced, nine will be in Richmond.
Funds are donated to the Richmond Hospital Foundation's Trio of Life campaign, which helps provide the hospital with new diagnostic equipment
Richmond News • August 4
Richmondites can enjoy garlic dishes and ice cream along with live music and a raptor demonstration at the Sharing Farm.
Richmond News • August 3
California chip maker Semtech Corp. has agreed to buy Vancouver-area communications technology vendor Sierra Wireless, Inc. for US$31 a share, the two companies said late Tuesday.
Globe and Mail • August 3
To help combat the effects of climate change on B.C.'s long-term food security, new funding is helping farmers and ranchers protect their operations by adopting regenerative agriculture practices, improving farms' drought resilience, and reducing greenhouse gas emissions.
Richmond Sentinel • July 29
Long-anticipated Steveston bar-restaurant GoodCo. now open

The new GoodCo. bar in Steveston is finally opening today, after much anticipation.
Richmond News • July 29
YVR welcomes The Dirty Apron to its domestic terminal

Local favourite, The Dirty Apron, opens in YVR's domestic terminal for both diners and travellers looking for signature and gourmet eats on the go
YVR News • July 27
Supporting co-ops will deliver more services to British Columbians
A new investment of $2 million will support the development and growth of British Columbia's co-operative businesses, while expanding services for people who use them.
Richmond Sentinel • July 27
Coho Collective Kitchens Inc. Finalizes Lease for 26,000 Square Foot Richmond Location
The new facility ("Coho Crestwood") includes commissary, grocery, and food hall premises to support Coho's expansion in the region and is expected to open by Spring 2023.
Newsfile • July 26
As a part of the StrongerBC Economic Plan and the next step in B.C.'s Trade Diversification Strategy, the Province has signed an action plan with Gyeonggi Province in South Korea.
Government of BC • July 20
B.C. jobs minister in Richmond to announce $1.5M to help small business owners grow online platforms
B.C.'s Minister of Jobs, Economic Recovery and Innovation paid a visit to Richmond on Tuesday morning to announce a support package for small businesses in the province.
Richmond New • July 19