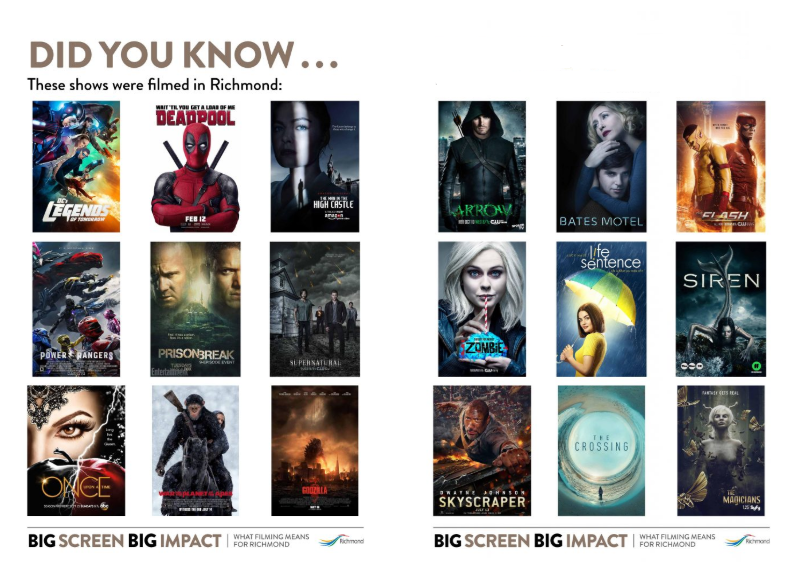 B.C., referred to as "Hollywood North" by those in the industry, is one of the top three international full-service film production centres in North America. 
Home to the Vancouver International Airport, Richmond shares the same time zone as Los Angeles and connects the region to the heart of North America's entertainment industry with over 80, 2.5-hour flights per week. Diverse and unique location options, as well as a dedicated Richmond Film Office, help the city capture a significant share of regional productions.
A core initiative of the Richmond Film Office is to liaise with film industry and community stakeholders on film-related matters in order to promote the growth of Richmond's Film Sector. The key objective of these efforts is to attract production crews to shoot on location in Richmond on both public and private property.
The demand and growth for filming in Richmond led to the first purpose-built film studio opening its doors in 2018. The studio is located in East Richmond and features four sound stages and over 119,000 sq. ft. of production space. The opening of the studio resulted in a large amount of filming activity in late 2018 and early 2019. The fully leased space directly employs over 300 mostly local (Metro Vancouver) residents.
In 2018, there were 173 days of filming on City-owned property, nine days of filming on Metro Vancouver property and 29 days of filming at YVR for a grand total of 211 shoot days, in addition to 209 prep and wrap days.
Richmond's facilities and workforce can support all aspects of the largest movie productions, from set construction and casting through to post-production and visual effects.
Positive Impacts Filming Brings to the Community
As one of Richmond's ten key sectors, Film plays a key part in supporting our strong and diverse economy
Provides revenue for thousands of local businesses such as hotels, restaurants, caterers, retailers, moving and equipment supply companies, whose services are used during a production
Filming in Richmond promotes tourism by showcasing our beautiful city, attracting visitors from all over the world
Filming offers the potential for additional revenue for homeowners, landlords and local businesses; particularly during shoulder seasons
Gives back to local communities. Crew fundraising drives and participation in community initiatives, as well as charitable donations by productions
Filming: By the Numbers

—
Posted on August 21, 2019
In Partnership with the City of Richmond Film Office
For more information on Filming in Richmond, check out our Key Sectors Profile.