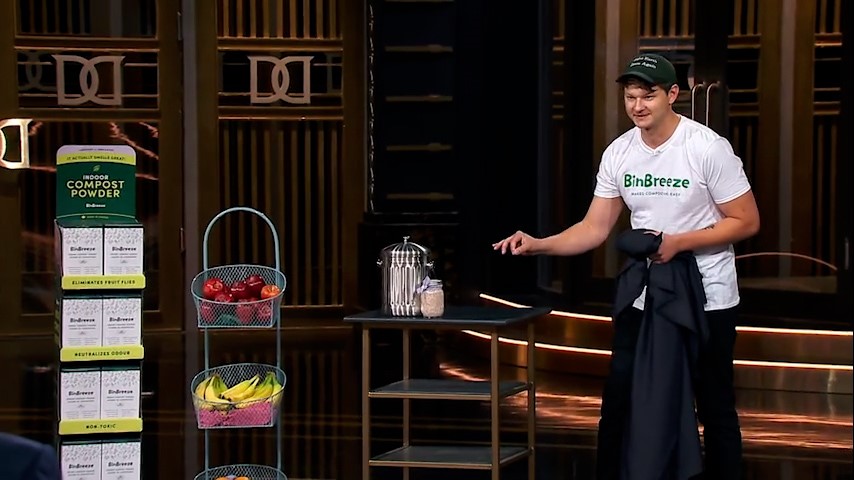 Project Zero alumni BinBreeze pitching their business on Dragon's Den. Photo Credit: BinBreeze
Every year, 100 billion tons of material enter the global economy, but over 91% of goods end up in the landfill at end-of-life[i]. As climate change, resource scarcity, and global issues expose our current economic system's risks, the need for a catalyst to support a quick transition to a more sustainable model is clear.
Enter the Project Zero Incubator Program, an initiative of the Synergy Foundation that supports new British Columbia-based ventures operating within the circular economy.
This free eight-month program is designed for innovative, early-stage start-ups that offer products and services that support a sustainable future. In addition to monthly virtual sessions led by guest experts, participants have access to fundamental business training and resources, including:
Comprehensive entrepreneurial and business planning skills,
Access to financial, legal, intellectual property and marketing professionals,
Specific skills related to operating within a circular economy,
Business pitch training,
Connections to with investors and industry experts, and
Mentorship and business plan coaching.
The Project Zero Incubator program distinguishes itself apart by catering to businesses with circular business models. Ventures range from waste-to-resource models and closed-loop designs to clean technology and renewable energy.
These businesses join a wave of private sector innovators moving away from our current predominant "take-make-waste" linear economic model, which is resource-intensive and generates high emissions and waste. Instead, they apply circular strategies, designing resources and manufactured goods to remain in the system through innovation, reuse and repair, redistribution, recondition, and recycling processes, all of which are powered by renewable energy. As a result, pollution and waste are eliminated.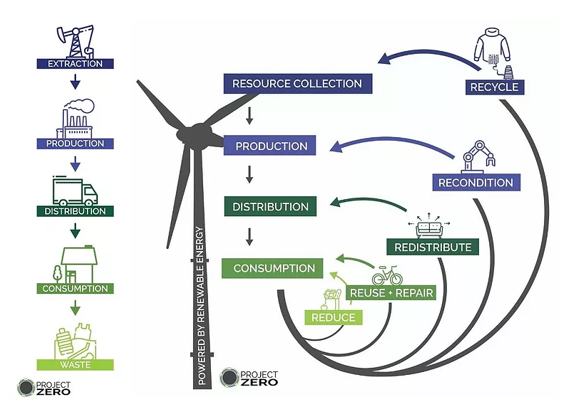 The circular economy can provide a 4.5 trillion dollar value by 2030, which can be realized as more businesses transition to circular strategies[ii]. The tremendous opportunities of this model cannot be understated, and paves the way toward a sustainable, regenerative, and socially just future.
The annual Project Zero Incubator program launched in 2019 already has an impressive list of alumni. BinBreeze, a venture from the inaugural cohort, created an eco-friendly product designed to prevent odors and fruit flies in household green bins. A year later, creator Taylor McCarten struck a deal on the business reality show Dragon's Den, and in October 2021 won a $10,000 New Ventures BC Regional Start-up Prize. BinBreeze is now stocked at 350 retailers, including Canadian Tire and London Drugs.
ShareWares, a 2021 participant, is implementing a citywide reusable container borrowing program in Vancouver, enabling businesses to eliminate single-use containers by supplying, cleaning, and tracking reusables. So far, ShareWares has partnered with six cafes and restaurants and is growing rapidly.
Know an innovative business that would benefit from this program? Applications for the 2022 Project Zero Incubator Program will open on January 10th. Visit www.project-zero.ca and sign up for the Project Zero Newsletter to receive the application link in the new year, or follow along on social media at @thisisprojectzero and Project Zero.
---
The City of Richmond has demonstrated leadership in environmental sustainability by developing innovative policies, programs, and services shaped by community and stakeholder participation. This has resulted in increased use of environmentally sound products and services by the City. Richmond is further building upon this with the goal of creating a road map to realizing a true circular economy.
To learn more about what the City is doing now, visit www.richmond.ca/sustainability/circulareconomy.
Posted on November 15, 2021
Guest blog post by Project Zero
[i] The Circularity Gap Report (2021)