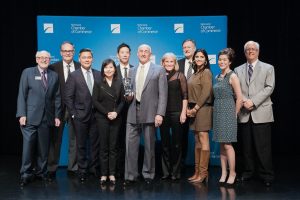 Whether your business is in tourism, retail, manufacturing or technology, there's an award out there for you – and even the process of nominating your company can have huge benefits. Each industry has its own award program where businesses vie to be recognized for excellence in their field. There are also more general, non-industry-specific business awards, specifically the Richmond Chamber of Commerce Business Excellence Awards, Small Business BC Awards and BC Export Awards that you should definitely consider. Here's why.
The benefits of business awards
Record your business achievements
Sometimes we can get so bogged down with daily tasks, monthly meetings and quarterly reports that we forget to step back and really evaluate what has been accomplished. Nominating your business for an award gives you the opportunity to do just that. What makes your business stand out above the rest? Are your product or service innovations being recognized by your peers? Have you blown your revenue projections out of the water? Think about what you've accomplished over the last year – now go write it down!
Engage your employees and turn them into champions
Who doesn't want to work for an award-winning company? Being recognized with a business award will go far when your employees feel pride for where they work and share the news within their circles and post it on their LinkedIn profiles. Getting multiple members of your team involved in submitting the nomination can also help them think beyond their specific role and reflect on what they have achieved collectively as a team and as a company. Another great way to engage your employees is to bring them to the business awards reception. These affairs typically involve a nice dinner, networking and some entertainment and can even be used as your annual office party.
Don't miss an opportunity for free publicity
You've likely seen more than a few headlines in your local papers, on social media and in industry publications about a local business that has the 'Best Workplace', 'Most Innovative Marketing Strategy' or 'Most Impressive Growth'.  Or some real headlines from Richmond like this one about Hudson + Hobbs founder Teri Wachtel getting her designer children's clothing line into one of the top department stores in North America or this news release from bioLytical announcing being named a BC Export Award finalist. Get yourself one of these headlines! When you do, leverage the media coverage through your own channels by posting on your website, on social media, and absolutely anywhere else that you can.
3 awards for your Richmond business
If you're keen to reap the benefits of participating in business awards, here's a list of 3 Richmond- and B.C.- based programs that you should definitely consider.
Every year for the past 40 years (and counting) the Richmond Chamber of Commerce has put on a fabulous annual Business Excellence Awards event. Get recognized in front of the Mayor of Richmond, the Chamber executive, and hundreds of your peers at the River Rock Casino Resort Show Theatre. Nominations are open now until the end of August, after which an experienced judging panel has the difficult task of shortlisting companies for the 10 award categories. The 2018 Business Excellence Awards will take place on November 22. See you there!
Join the ranks of WhiteWater West Industries, Saltworks Technologies and Corvus Energy, all Richmond companies who have taken home a BC Export Award for themselves. This awards program spans all industries and recognizes the businesses who contribute to the provincial and national economy by exporting goods (or services) to international markets. Applications are open now through August 20, you can find more details here.
Getting your business recognized in your own community is a very worthwhile experience, and so is getting recognized more broadly. The Small Business BC Awards let you shine among the top companies in the province. Categories for these awards include Best Concept, Best Employer, Best Immigrant Entrepreneur, Best Innovation, and Best Marketer. Nominations and voting are open through October and November, and the awards ceremony will be in February 2019.