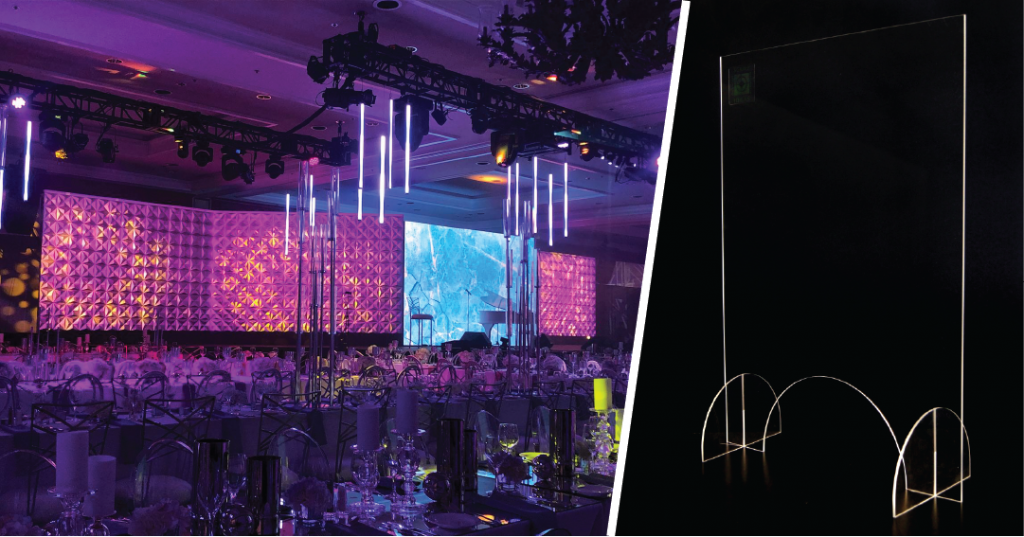 Photo credit: Scene Ideas
Physical distancing, small social circles, fewer faces and bigger spaces – all things we have heard time and time again during this COVID-19 pandemic. All live events – concerts, conferences, trade shows, weddings – have been cancelled and many businesses have had to close their doors for good. But local live event company, Scene Ideas Inc., has fully pivoted away from live events to survive this pandemic and stay in business.
Scene Ideas is a staging rentals and custom scenery shop, originally created as the necessary solution to meet the growing needs of the local events industry in Vancouver. Their 12,000 square foot facility in Richmond is equipped to handle all aspects of fabrication from woodworking to welding, metal work, scenic painting, scenic automation, and sculpting.
Scene Ideas began experiencing event cancellations as early as January 2020. The number of cancellations increased each day until there was nothing left. Then, Prime Minister Trudeau's announcement on March 12th, 2020 effectively shut down all live events and the once highly viable and productive industry vanished. Despite all efforts to cut costs and plan for business continuity, Scene Ideas had no choice but to close its doors until further notice on March 17th, 2020.
"Seeing the only industry and career you have ever known vanish so quickly was devastating. Then being forced to close our company and furlough our staff left myself and my business partner feeling utterly helpless. The month following our closure was an emotional roller coaster," says Isaac Kinakin, co-owner and Director of Business Development at Scene Ideas.
But with an active pursuit to keep the company alive and a strong desire to re-employ the team they had worked so hard to build, Scene Ideas was able to adapt to the disruption of the pandemic by fully pivoting their business model, becoming a custom manufacturer of plexiglass barriers and PPE.
"Plans were formulated that ranged from walking away and throwing the key behind us to going all n on a business pivot. I am so pleased we chose the latter," says Kinakin. After a month of closure, Scene Ideas converted from a rental model into a retail model, launched their online store, and revamped their online presence for a new market. They were able to hire new key management and specialists and invest in manufacturing technology and upgrades on the shop floor. They have also recently expanded with a warehouse location in Mississauga, ON to service new and existing clients out east.
"We keep up-to-date with the health and safety regulations from federal, provincial, and municipal health authorities, even with all the constant changes. More and more people are realizing what they need to keep their businesses open and that allows us to showcase our expertise in this 'new normal' and provide consultations and solutions most suitable for our clients," says Kinakin.
Using their expertise in custom fabrication, Scene Ideas has become a leading supplier of Operational Health & Safety Solutions nationwide, including custom physical barriers, vehicle barriers, signage, and PPE. Barriers have been the hot ticket item for the past few months, and they don't see the demand decreasing anytime soon.
—
Posted on November 12, 2020
Guest blog post by Scene Ideas.