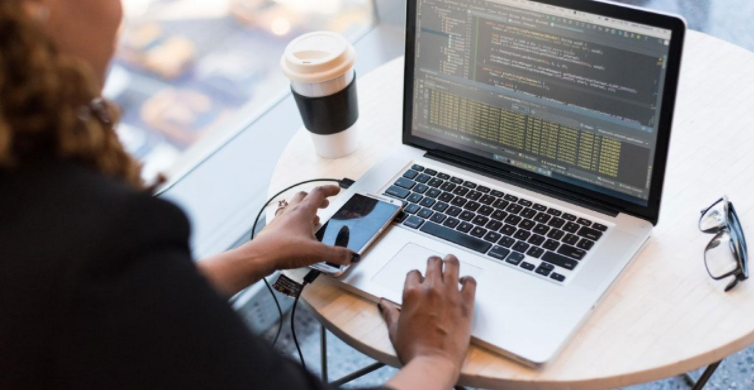 Google Business Profile (GBP) is a Google-powered online directory that lets local businesses share vital company information such as hours of operation, products or services the company offers, and a phone number. This information is important because shoppers can use it to get in touch with a local business or know their hours of operation. A company's GMB page helps the business attract local shoppers: it can drive traffic to its website or foot traffic to its brick-and-mortar store by appearing on Google search results page (SERP) or Google Maps when a shopper searches for local products or services based on the shopper's location.
For example, if you are around the Steveston area and you search for "Richmond coffee shop" in Google, you will likely see the following results.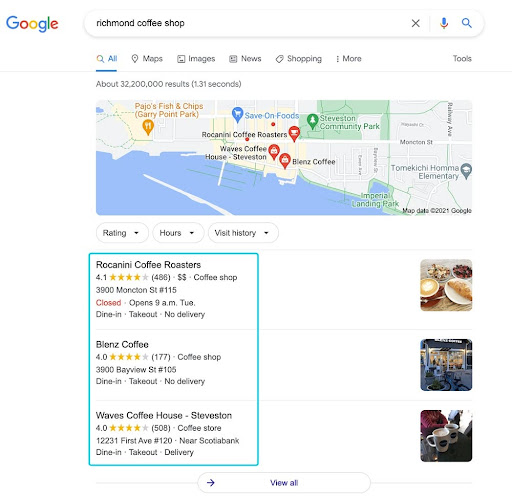 Appearing on Google search results after a shopper performs a local search helps you gain more online visibility and traffic from your target audience.
To optimize your Google Business Profile in order to increase its chance of appearing on Google search results, there are several tips you can use. Here are four strategies you can use to optimize your Google Business Profile page.
Gain More Google Reviews
Google Reviews are comments and ratings that customers can write about their experience with a business. Customers can express their positive, neutral or negative experience with a business and give their experience a score from one to five, with five being the optimal score.
Gaining more positive reviews such as good comments and high ratings (four or five out of five) improves a website's ranking in a list of local GMB pages.
For example, if you're a Richmond-based moving company, gaining more positive reviews can increase your GMB's ranking in local search results.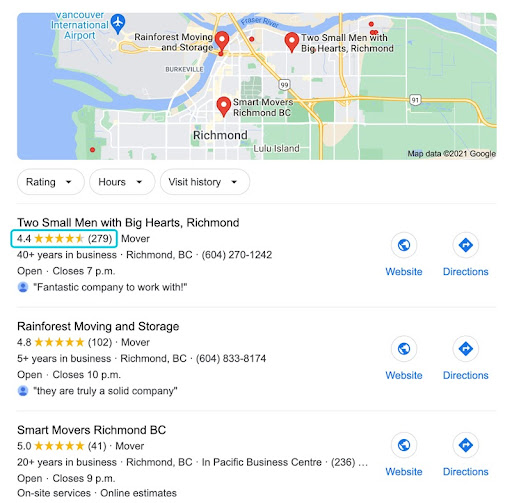 You can gain more positive Google Reviews by delivering exceptional products or services, and customer service, and then politely asking your clients if they could take time to write a Google Review about your products, services or their experience shopping at your store. You can share your GMB with them by email or text with your GMB URL. To retrieve your GMB page URL, login your GMB page, go to the 'Get more reviews' section and click on the 'Share review form' button.
Once you have clicked on the button, a prompt will appear with a URL to your GMB page. Send that URL to your happy customers for positive Google Reviews!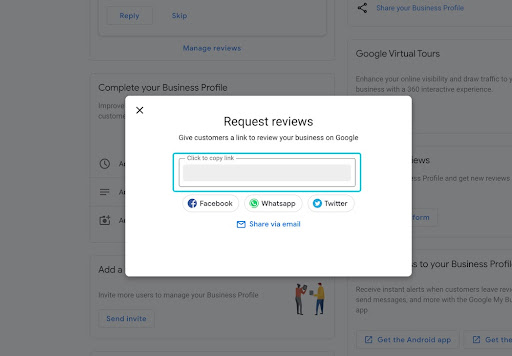 2. Include Categories
Within GMB, you can add a primary category and additional categories that are related to your business. For example, if you are an auto body shop, you can add 'Car Body Shop' as your primary category, and categories such as 'Car Bodywork Mechanic', 'Car Body Parts Supplier', 'Car Painting' and 'Car detailing service' as additional categories. Adding these categories helps Google understand the types of products or services your business offers and display your GMB for search queries related to them.
To add a primary category and additional categories, go to the 'Info' section and click on the pencil icon on the right side of the category section.
Search for a related category and add it to the primary category. Then, add relevant additional categories.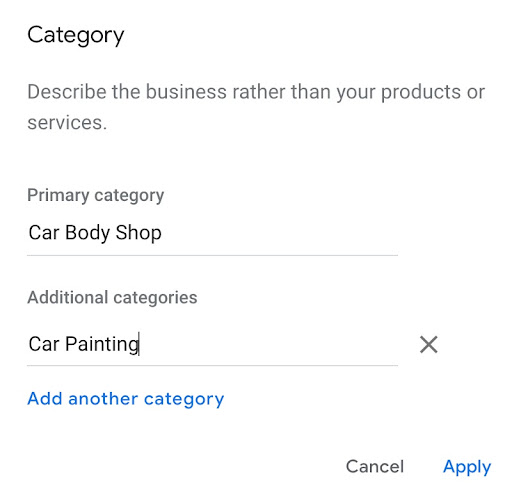 3. Include Attributes
In addition to adding categories, you can also select and include various attributes to let customers know more details about your business. For example, you can share whether your business offers outdoor seating and Wi-Fi, or if it identifies as women-led. Select relevant, accurate attributes for your Business Profile to help your business stand out online.
Attributes appear on your Business Profile on Google Search and Maps. If you add certain attributes to your profile, your business might show up in search results when people search for places with those attributes on Google Search and Google Maps.
To access the Attributes section, click on 'Info' on the left hand side and the go to Attributes section. Click on Attributes and choose select Attributes.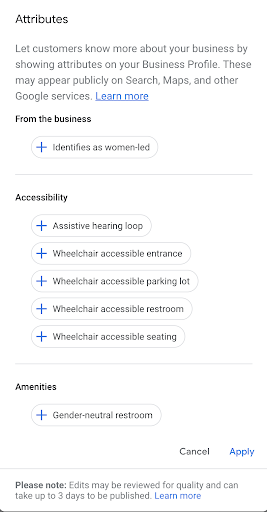 4. Include Service Area
If you are a service-provider or restaurant that provides service in various geographic locations, you can add your service areas in your Google Business Profile page. For example, if you are a Richmond-based plumbing company but you service a number of areas such as Burnaby, Vancouver, White Rock and Delta, you can add these cities in your service area. Doing so will help your GMB page appear in Google search results when prospects in those areas are searching for the products or services you offer.
To add cities in your service area, go to the 'Info' section and click on 'Add service area'. From there, you can add all the cities that you provided your services in.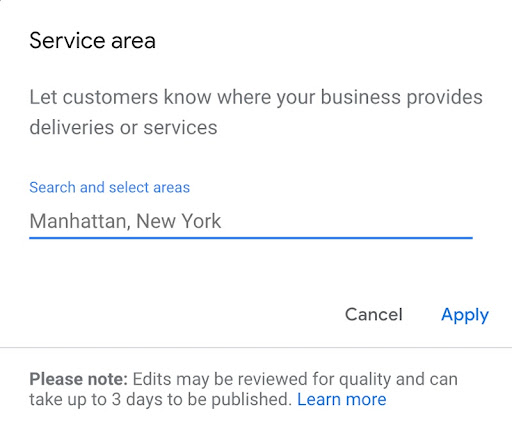 Google Business Profile is an effective digital platform that helps businesses attract local shoppers to their stores or websites by displaying local businesses' listings on Google search results in accordance with relevant search queries. To ensure that your GMB listing appears on Google search results when a shopper searches for a product or service your business offers, make sure that your GMB includes information about your business such as categories, attributes and service areas.  
Moreover, gain more positive Google Reviews from your satisfied clients to increase your GMB listing's chance of appearing higher on Google search results. Engaging in these strategies will help your GMB increase online exposure and attract more clients to your business!
—
Posted on December 13, 2021
Guest blog post by Ray Wang, Principal at RW Digital.
RW Digital is a Richmond-based digital marketing agency that leverages data and listens to tools to understand consumer passion points, optimize web experience and campaigns, determine right use of technology, and enable creative messages to land in the right way.