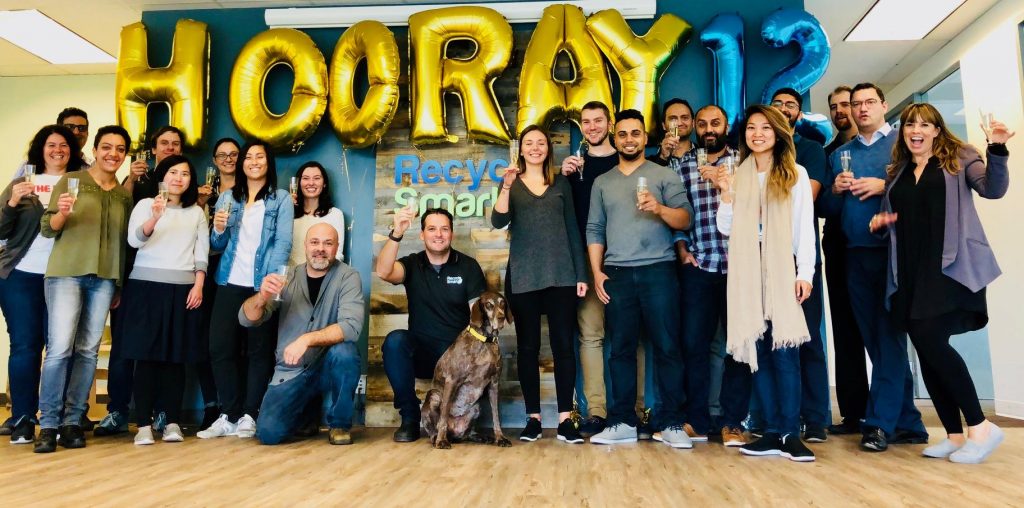 Waste costs businesses money. Garbage and recycling haulers charge every time their trucks make a pick up, regardless of what contents are actually in the bins. Most businesses rely on these same hauling vendors for advice on how to manage waste – even though it's in the haulers' best interests if waste output goes up.
Dedicated focus on reducing a business' waste streams can provide huge cost savings; savings that compound every week of the year. But without waste management expertise, it's easy for leaders to underestimate how much money they're leaving in the trash. In 2008, Jaclyn McPhadden, co-founder of RecycleSmart, became an entrepreneur to solve this problem.
Jaclyn was a biology graduate in her mid-20s who had just started a career in hotel management after spending years leading adventure tourism expeditions in the Arctic and Antarctic.
"It was probably the abrupt contrast of being in this pristine environment with no pollution, no garbage, going to places no one has ever been before – some of the most remote places on earth – and then coming back to a very urban environment and working in a hotel that left me gobsmacked seeing all of the waste coming out." – Jaclyn McPhadden, Co-founder, RecycleSmart
Jaclyn asked her managers if she could put together a plan to green the hotel's operations, and went to work researching best practices. She found strategies that would not only reduce environmental impact by diverting waste from landfills, but would also save the hotel material sums of money.
Believing that other businesses would want to benefit from this expertise as well, Jaclyn and co-founder Colin Bell started RecycleSmart in 2008 off the sides of their desks.
Now one of Canada's fastest growing companies
Ten years later, Jaclyn now holds the distinction of being the Growth 500 Female Entrepreneur of the Year 2018, having grown RecycleSmart into Canada's 14th fastest growing business in 2017, and Canada's 12th fastest growing business in 2018.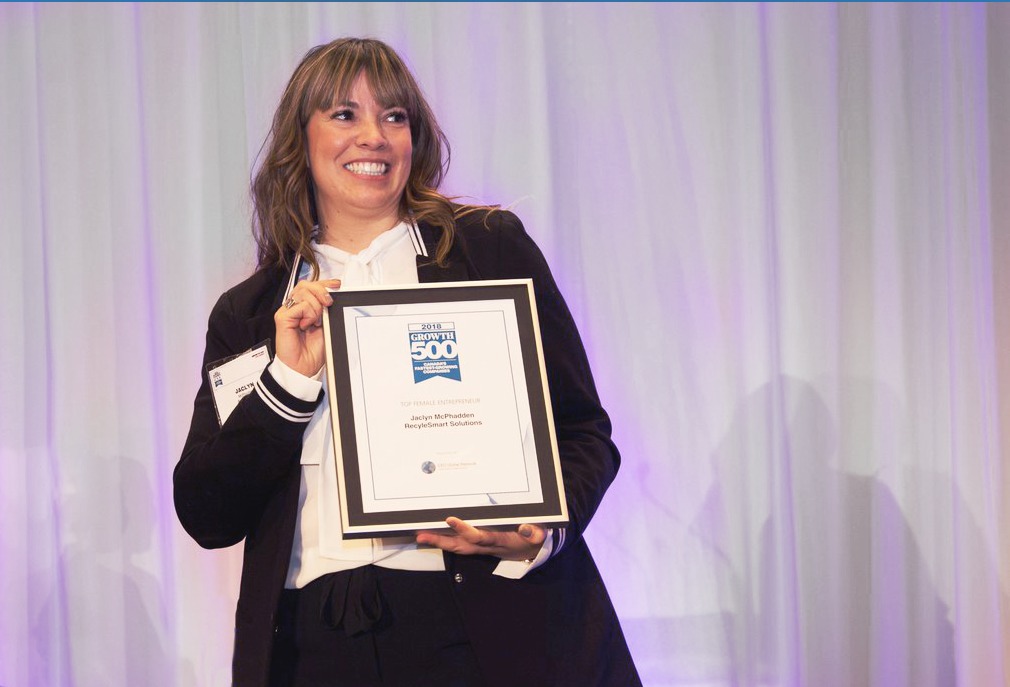 Her business makes revenue as a proportion of the cost-savings achieved for clients. If no cost-savings are implemented, the client walks away having received a waste audit for free. The fact that RecycleSmart is a $20 million revenue company, that's grown 5000% in the last five years, shows just how big of a need there is for better management of business waste in Canada.
RecycleSmart then consults businesses on how to reinvest cost savings towards improving recycling and organic collection to reduce overall environmental impact, and manages the implementation and long-term operations of the strategy. Methane produced by organic materials sent to landfill represent about four percent of Canada's GHG emissions – so just by responsibly managing organic waste, organizations can take a meaningful stand towards combatting climate change. RecycleSmart therefore offers a no-cost, multiple rewards value proposition to clients. But it can still be a tough sell.
Early stage financing and mentorship from Futurpreneur
In 2010, Jaclyn and Colin decided it was time to seek additional financing to confidently be able to hire their first staff, but they were repeatedly shut down.
"Even though we were profitable from day one, so we had two years of financial statements, no banks wanted to help us at all," Jaclyn admits.

"It's not that we needed a lot of money, because at the end of the day we were a consulting business – but that was also a problem because going to the bank when you don't have any assets or inventory as collateral was very difficult."
Adding to this barrier to financing, there is a perception among some business leaders that going green equals increased cost.
"A lot of them have never heard of waste consulting, so skepticism sneaks in, usually very early in the sales process, and it can be very difficult. Some prospects, you say go green and it's like 'this meeting is done', because they're like 'I don't know what you're selling me but this isn't part of our mandate.'"
Luckily, Jaclyn and Colin got the break they needed when they came across a non-profit called Futurpreneur that provides collateral-free loans for entrepreneurs under 40 to launch their start-ups. The Futurpreneur Start-Up Program also paired them with a hand-matched business mentor, Terry Thompson, who Jaclyn credits as an invaluable part of her business success.
"His network connecting us with other professionals in Vancouver was huge, and some of those network connections we still use today for our business in terms of accountants, lawyers, HR consultants, and recruiters."
Eight years on, long-past the two-year Futurpreneur mentoring relationship, Terry is an investor in the company, and still meets with the founders on a quarterly basis."He basically is like our de facto board member!"   
Smart technology keeps RecycleSmart on the leading edge
RecycleSmart further bolstered growth through the integration of IoT technology into their waste management practice – a pioneering innovation in the waste industry. By installing sensors on all the bins they manage across the country, they're able to monitor bin levels and optimize pick up schedules nationwide from the comfort of their Richmond HQ.
Jaclyn also invested in completing an MBA while growing RecycleSmart. She says this in-depth business education has helped her better understand and speak to the concerns of business leaders that don't immediately see the value of 'going green'.
Compared with ten years ago, when Jaclyn thought 'why wouldn't everybody do this', Jaclyn says she has greater appreciation today for the barriers to change, and encourages entrepreneurs hoping to start green ventures to connect sustainability with financial and operational benefits.
Today, RecycleSmart manages waste from coast to coast, with employees concentrated in the Vancouver, Calgary and Toronto areas. By continuing to introduce new innovations in sensor technology – that will allow deployment in more remote regions of the country where there is less bandwidth infrastructure, Jaclyn plans to continue climbing up the Growth 500 Rankings by reducing waste.
Inspiring the next generation of entrepreneurs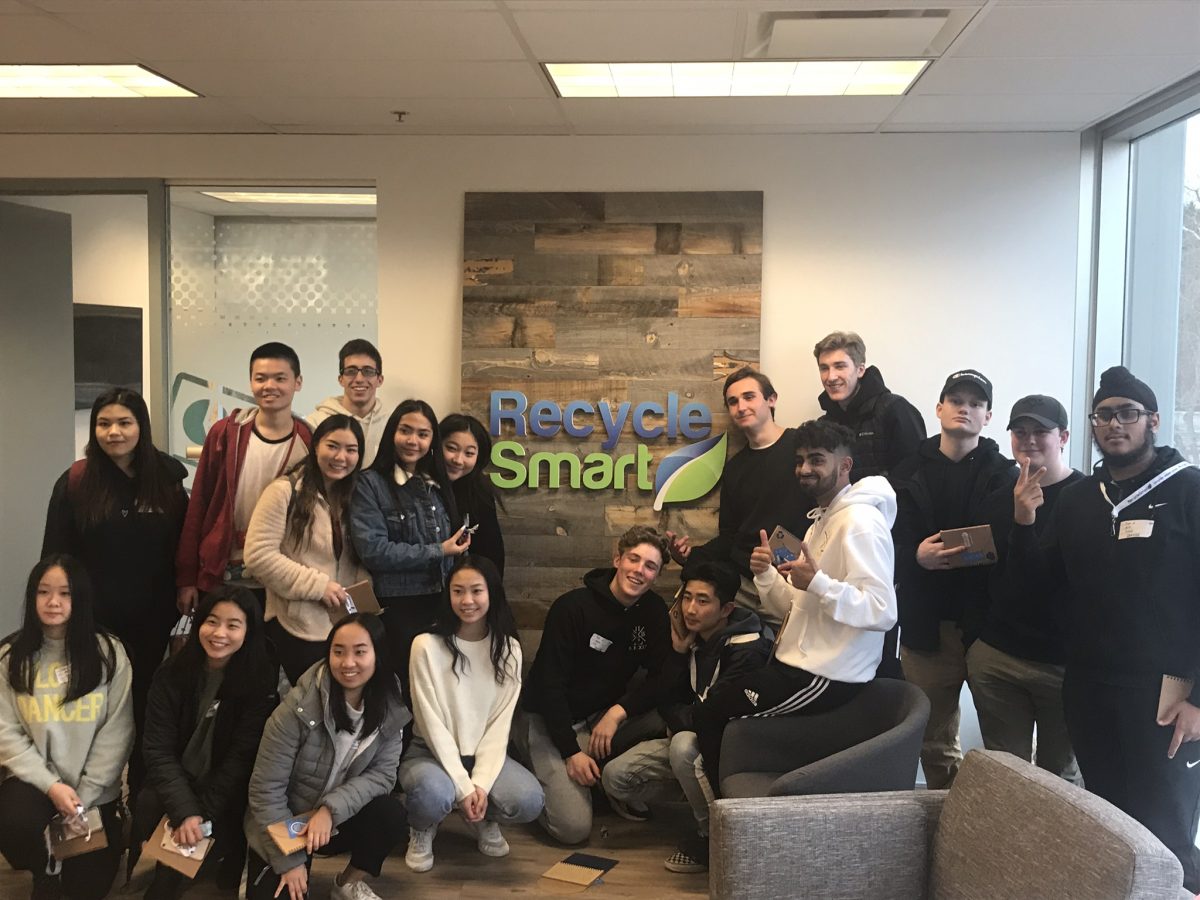 With the business on a solid foundation and strong growth trajectory, Jaclyn and her team at RecycleSmart are now focusing some of their efforts on paying forward the help and support they received from Futurpreneur and others along their journey. In December 2018 they partnered with the City of Richmond and the Young Entrepreneur Leadership Launchpad (YELL) to host a group of high school students at their headquarters to share their entrepreneurship stories and help inspire the next generation of entrepreneurs.
—
Guest post by Sayan Sivanesan, Program Specialist at Futurpreneur Canada