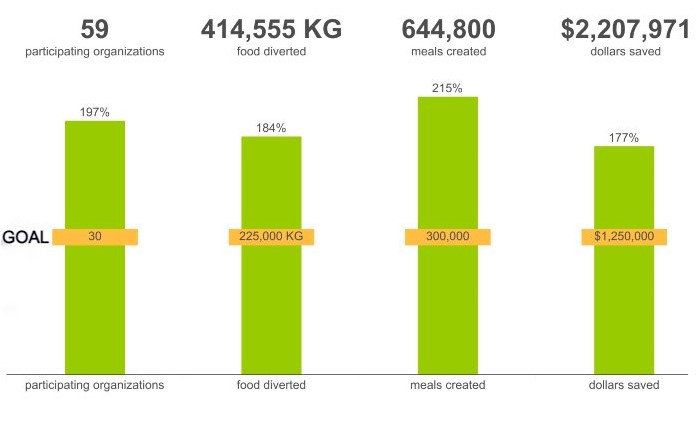 When the City of Richmond and FoodMesh came together in November 2019 to launch the Richmond Food Recovery Network, the objective was simple – work with local businesses to help address food waste and insecurity by diverting unsold food to improve access for those in need.
The target was to find and divert enough surplus food to provide 300,000 meals for Richmond residents through local charity organizations. The actual impact was 644,800 meals, a staggering 215 per cent achievement over target.
"This partnership supported Council's strategic plan to create a sustainable and environmentally conscious city that demonstrates leadership by exploring and implementing innovative new ideas" said Richmond Mayor Malcolm Brodie. "The implementation and outstanding success of the Richmond Food Recovery Network continues our commitment to a circular economy and resulted in enormous benefits to people, businesses and social agencies throughout our community."
Council approved a one-time contribution of $25,000 just over a year ago to help FoodMesh educate and engage the private sector and social service agencies to join their network and the innovative pilot. They could participate in the online food exchange portal which makes surplus or off-spec food available for sale at discounted rates to other businesses or through donation to local charities and social groups. Another option was the Retail Food Recovery program which matches retailers to food security charities so they can donate their unsellable food rather than dispose of it.
Not only did the pilot exceed expectations, it went well above almost all its pre-implementation targets. Its goal of diverting 225,000 kg of food to secondary markets and away from waste streams actually saw 414,555 kg diverted – an increase of 184 per cent. Projected savings to food brands and charities of $1.25 million actually saw over $2.2 million saved (a 177 per cent increase) and the number of organizations participating almost doubled.
"We are absolutely thrilled by the success of this pilot, and grateful to the City of Richmond for leading the charge in building Metro Vancouver's first local food recovery network," said Jessica Regan, CEO of FoodMesh. "The dedication shown by the early adopters of Richmond's network – local food businesses, charities and farmers – is truly outstanding, and we at FoodMesh are honoured to have helped facilitate organizations to reduce unnecessary food waste and feed more."
Feedback from participants who joined the network was overwhelmingly positive. The Richmond Food Bank, for example, experienced a tenfold increase in perishables, a surplus of meat products, and a shift from having to provide prepackaged goods to offering fresh food to users regularly since joining the network.
The launch of the Richmond Food Recovery Network was timely as food insecurity was exacerbated by the pandemic. FoodMesh received funding in August from the federal Digital Technology Supercluster to expand its platform nationwide, creating an Emergency Food Distribution Network to address the impacts of COVID-19. The success achieved in Richmond was a key factor in securing that funding and the City is acknowledged as a leader in national food recovery initiatives.
Now that a base of almost 60 local user organizations is in place, the program is self-sustaining. New users are welcome and any food business, charity or farmer who has or needs food can contact FoodMesh at [email protected].
More information on the outcomes of the Richmond Food Recovery Network can be found at foodmesh.ca/services-regional/richmond-final.
---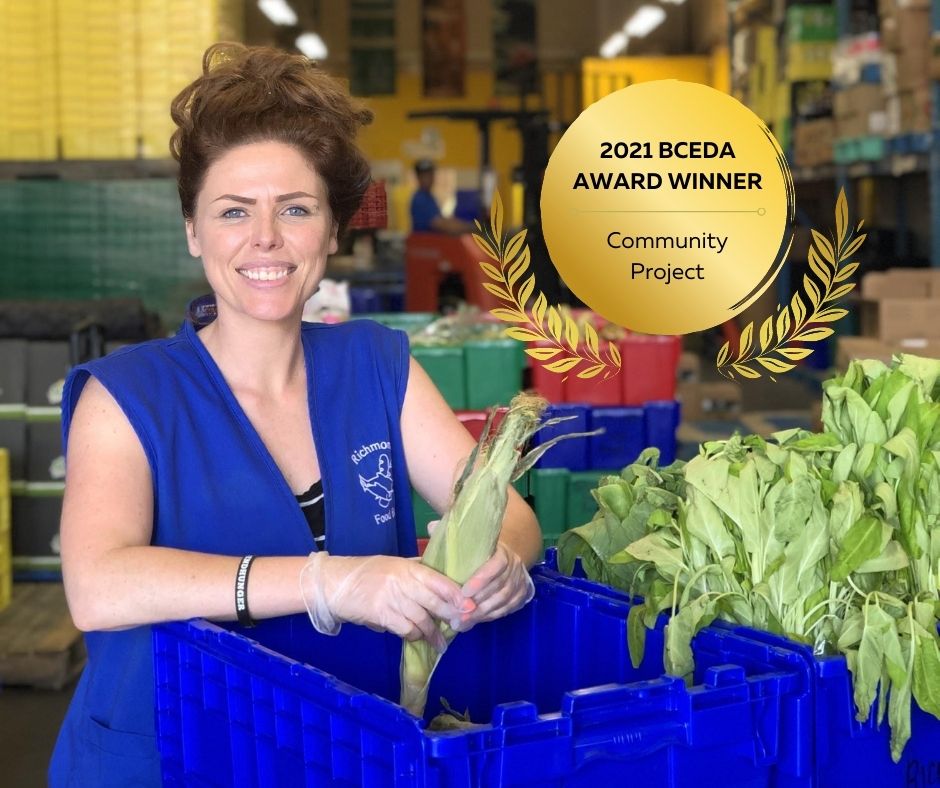 The British Columbia Economic Development Association (BCEDA), the leading professional association of economic development practitioners in the Province of BC, has awarded the City of Richmond the 2021 Community Project Award for the Richmond Food Recovery Network.
The BCEDA Community Project Award recognizes an organization that has implemented various economic development initiatives that provide economic benefits to a community or region. The BCEDA awards have been presented annually for over 30 years to individuals and groups who have dedicated their time to outstanding work in supporting their local economies, and for making a meaningful difference in their communities.
---
Posted on March 3, 2021