For a quick snapshot of how the economy is performing in Richmond, and in the surrounding Metro Vancouver region, the City of Richmond's Quarterly Economic Report has got you covered. In this report you'll find up-to-date statistics and analysis on key economic indicators including housing and development, tourism and trade, business growth, commercial space and more. Here are some highlights.
Unemployment 
Unemployment rates ended the quarter at a low 6.0%, 5.2%, and 4.3% for Canada, B.C. and Metro Vancouver respectively. This represents a decrease in unemployment rates by 7.7% and 16% for Canada and Metro Vancouver, respectively, over the same quarter in 2017.
Over the same period, B.C.'s unemployment rate increased by 2.0% but remains the lowest in the country.
This prolonged period of strong employment growth is expected to put upward pressure on wages as companies compete for skilled employees.
Housing Starts & Construction Activity
Housing starts in Richmond increased by 60% in the first half of 2018, compared to the same period in 2017.
The total number of building permits issued in Richmond throughout the first half of 2018 increased by 9.0% over the same period in 2017.
The total value of construction activity throughout Richmond in the first half of 2018 totaled $485 million, on track to surpass the record values of $716 million realized in 2016 and $709 million in 2017.
Real Estate
1,810 homes were sold in Richmond throughout the first half of 2018, a 27% decline over the same period last year. Tightened mortgage rules, a foreign home buyer tax and other policy measures have contributed to this slowdown.
The average sale price of homes in all categories increased year over year: 9% for detached homes, 11% for townhouses and 5% for apartments. At the end of Q2 2018 the average price of a detached home in Richmond was $1.98 m, while a townhouse was $917k and an apartment was $576k.
Business Growth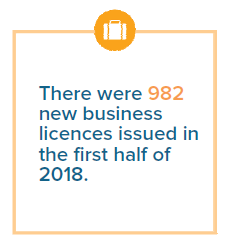 There were 982 new business licences issued in Richmond during the first half of 2018, an increase of 6% over the same period in 2017.
The addition of 3,556 jobs and the absorption of almost 1 million square feet of commercial space was attributed to these new businesses.
View the Complete Report
Click on the report cover below for a link to the complete Quarterly Economic Report.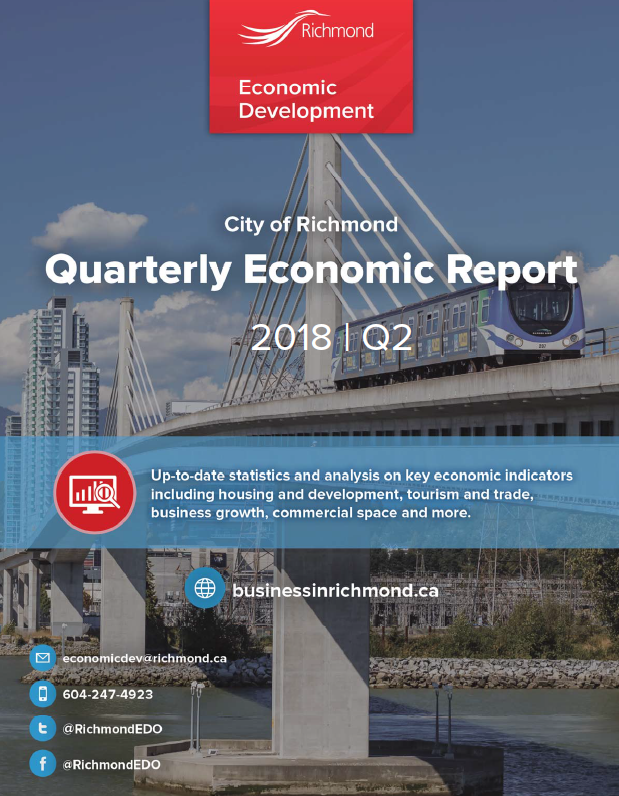 August 23, 2018