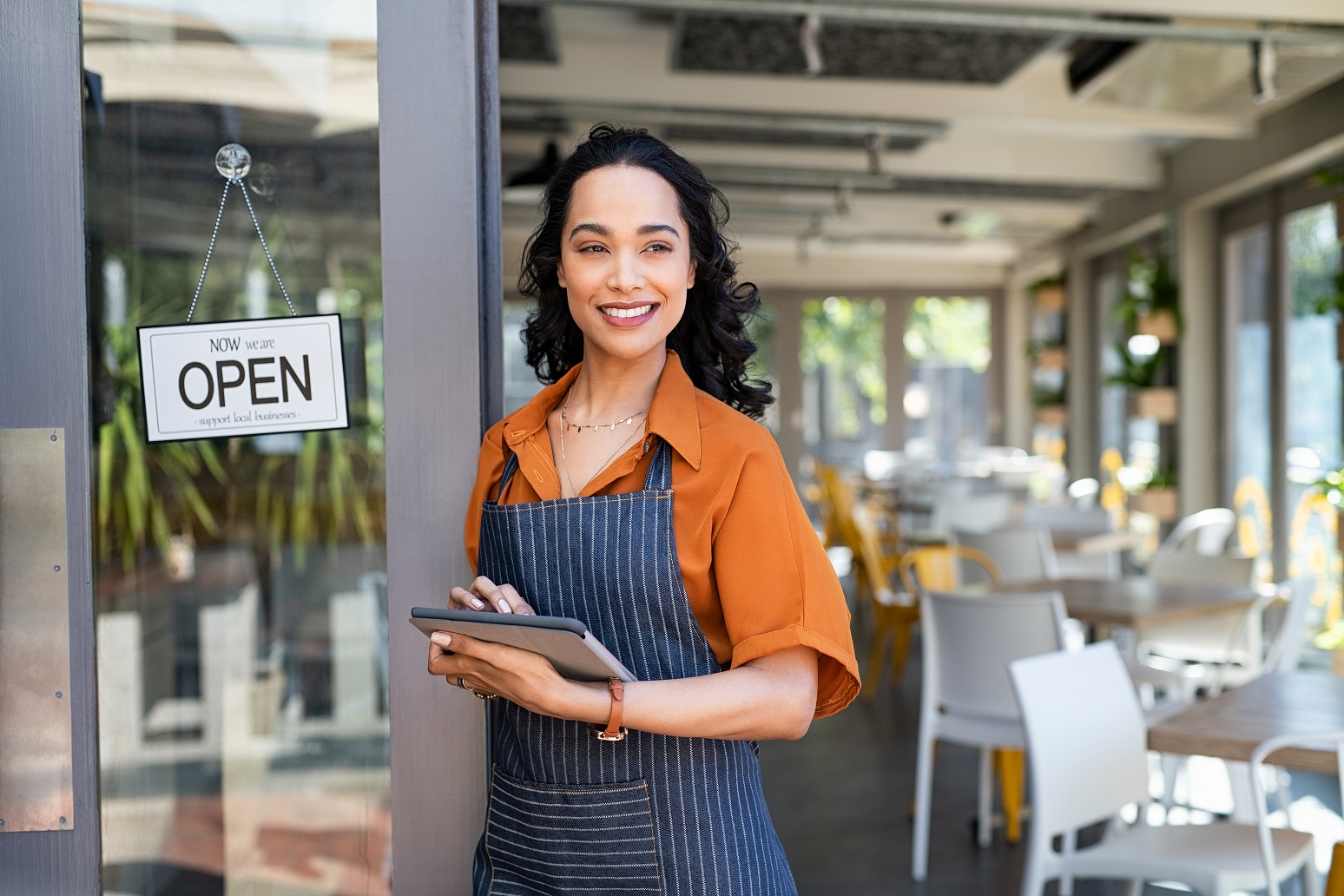 Search engine optimization, commonly known as SEO, is a set of digital marketing tactics that helps websites increase their search rankings on search engines, Google in particular.
Local SEO refers to a strategy for improving Google Business Profile (GBP) listings in the Google Maps pack. The Google Business Profile listings refers to  the Google Maps section you see in Google search results for local search terms such as "Richmond sushi" or "Richmond plumber". Local SEO also refers to improving a website's search rankings in the general Google search results.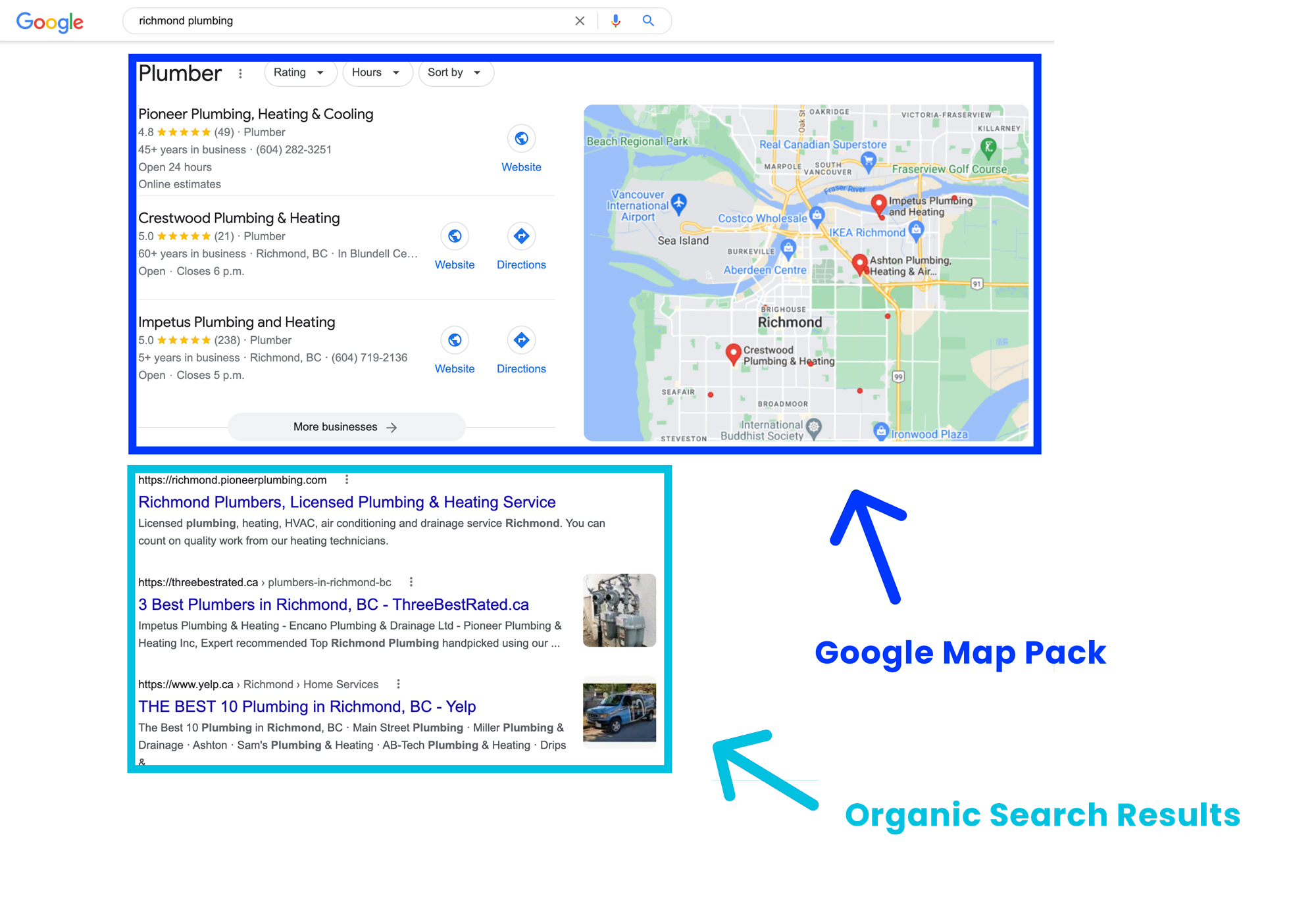 Here are six local SEO factors you need to pay attention to in order to help your business improve its search rankings:
1. Number of Positive Google Reviews
The more positive Google Reviews you have, the better it is for your local search ranking in the Google Map Pack. Having more positive Google Reviews  incentivizes Google to showcase your  business to searchers. Conversely, the more negative Google Reviews your business has, the worse it is for your company's local search ranking because Google will not want to feature your business.
2. Keywords in Google Reviews
Google also uses keywords in Google Reviews to gain better textual understanding of a Google Business Profile and its relevance to different search terms. For example, when I search for "Richmond real estate law firm", my results show a Google Business Profile with a Google Review that says "Definitely recommend for real estate lawyer". The keyword phrase "real estate lawyer" is bolded in the Google Review. Google uses keywords in Google Reviews to further understand what a business offers, and will  accordingly display business listings for relevant search terms.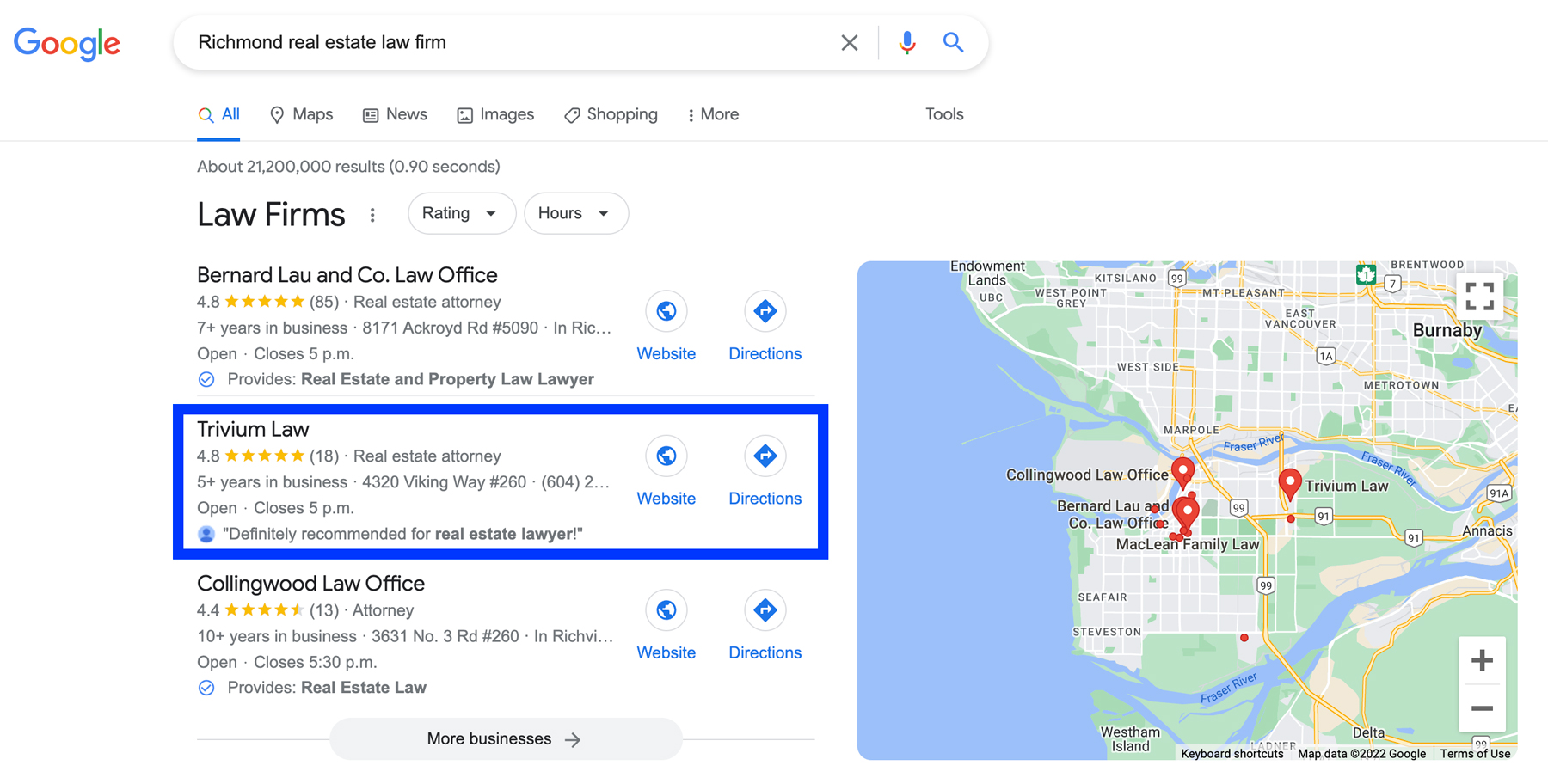 If you want to leverage keywords in Google Reviews to help boost your listing, ask your customers to name specific products or services in their Google Reviews of your company. For example, if a client used your commercial real estate law service or will and estate law legal service, ask your client to include the specific service name in their Google Review so your GPB list will have a greater chance of appearing in local results for related search terms.
3. Number of backlinks
Backlinks are the number of external websites that link to a website. The more quality backlinks your website has, the better it is for your website's search ranking. Backlinks are a sign of trust and authority. If many (preferably reputable) websites link to a site, it means that the site is likely a credible source of information.
Gaining more backlinks also helps your local search ranking. You can earn more backlinks by getting featured in the media, joining your local chamber of commerce and including a link to your website in your chamber bio, or writing guest blogs in industry publications.
4. Primary and secondary categories
You can specify your business' primary and secondary categories in your GBP. Google relies on  these categories to understand what your business is, and will display your GPB accordingly for relevant search terms. If your organization is a wellness clinic, you can choose "wellness centre" as the organization's primary GPB category. You can also add a secondary category, such as "social services organization" to further help Google understand the type of your organization.
5. Services offered
You can also list out the services you offer on your website. If you're an auto body shop for example, list out the services you provide,  such as car oil change, brake pad replacement, and car maintenance. Adding these services helps your GPB listing appear on local search results for search terms related to your services. For example, if you add "car oil change" as one of your services, your GPB will have a higher chance of  appearing on relevant local search results.
6. Create city-specific landing pages
Create a landing page dedicated for the city that you want to target. For example, if you're a plumber based in Richmond and you want to appear on Google search results for search queries for nearby cities such as "Surrey plumbers" or "Vancouver plumbers", you can create landing pages for these cities and include these cities' names in the page titles. When you create a landing page that includes a city name such as "Surrey plumbers" or "Richmond plumbers", your landing page can appear on search results for these geo-specific search terms.
—
Posted on July 19, 2022
Guest blog post by RW Digital.
RW Digital is a digital marketing agency that leverages data and listens to tools to understand consumer passion points. We help optimize web experience and campaigns, determine the right use of technology, and enable creative messages to land the right way.